A Divine H2o's Thanksgiving Food Drive 2021 with KTM – Hollywood & Skidrow
Hey LA! This month's Divine Project Food Drive was a very special Thanksgiving one which offered warm meals with handwritten intentions for people who are experiencing housing challenges.
Divine Project is a registered 501c3 non-profit that has blessed over 100,000 meals with their divine graces. Every last Sunday of the month some Divine Angels get together and package food to disperse to the less fortunate.
Yesterday we started the afternoon off by packaging and sorting out donated food and goods at A Divine H2O. Afterwards, we all went to San Julian Park on Skidrow to distribute the collection.
Some of the items donated included food (turkey, pies, warm, non-perishables, water, juices), blankets and pillows, socks, hygiene items (feminine products, razors, toothbrushes, baby wipes…), sanitizers, masks, gloves, holiday decor, paper products like napkins, paper towels and toilet paper and there were surely more items that were not caught by our lenses.
For this particular Thanksgiving Sunday, as a special festive touch, there was also a live DJ set by DJ Rudy Artavia and performances by Milox Leon, and a birthday celebration and single release for Zareth Shahar.
Now more than ever, help is needed, with millions experiencing homelessness and food insecurities due to the pandemic. It was great to be a part of a divine team bringing hope to families and individuals in their moment of need.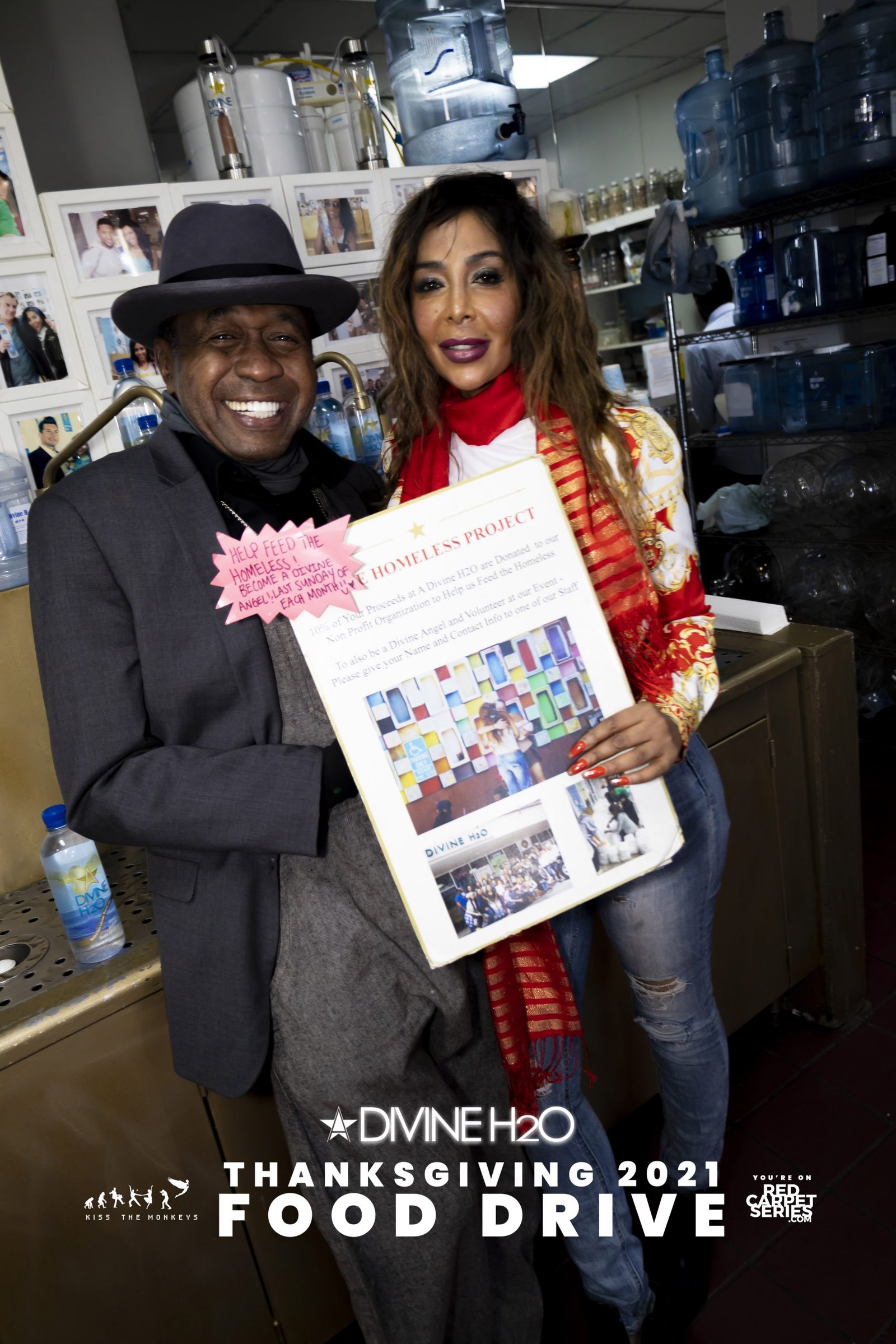 You can still get involved.
Of course, it's not too late to get involved. Here are ways you can help during the month of December:
* You can drop off goods at A Divine H2O in West Hollywood on Sunset Blvd or Beauty At The Bay in Redondo Beach.
* You can help package food at A Divine H2O
* You can share this event with your family and friends
* You can make a donation through the Divine Project website Link to Donation Page
Divine Project, a nonprofit charity focused on combatting food insecurity and assisting people in difficult situations, made the decision to start accepting monetary donations in 2021 after 14 years of operation without financial donations.
This decision was made in an effort to expand their operation and let's face it, it takes money to achieve any sort of significant growth and it's a miracle that this project has grown into what it is without accepting donations in the past.
So please, if you're not able to attend the actual food drive, donate directly on their website.
All amounts donated go directly to the cause and any amount is helpful.
Downloading From RCS
This gallery contains over 150 high resolution images. Please be patient as they all load.
If you're only here for one or two pictures, just use the individual download buttons on each picture.
To download the full gallery, use the three dot navigation on the gallery and follow the appropriate link.
The one thing you should not do, if you like your memories in the highest quality possible, is take a screen shot.
Social Media Cropping And Filters
Keep in mind, the pictures we provide you are high-resolution images rendered at a whopping 300dpi (dots per inch) and normally at least 22″ x 14″. That's more than 90,000 dots.
Cropping or adding filters to an image on Instagram, Facebook and all the other social media websites will reduce the images to 72dpi (at the most) reducing our 90,000 dots above to just slightly over 20,000 dots. That's a whole lot of lost dots.
Basically, you will be left with a distorted image that will most likely be even lower quality than most cellphone images and your photographer will feel very sad.
The Best Way To Upload To Social Media
If quality is king to you, as it is to us, we highly recommend posting the images in their original high-quality resolution without any added filters or cropping.
This is what will make your images stand out and let your friends and followers know that they were taken by a professional.
Of course, this is entirely up to you and we want you to enjoy your photos in the format that's most suitable for you.
Credit
To credit your photographer, please use:
Facebook: Photography by Dumisani Maraire Jr. for Red Carpet Series
Instagram: Photography by Dumisani Maraire Jr. for @redcarpetseries
Website: Photography by Dumisani Maraire Jr. for RedCarpetSeries.com
Shout Out To All Of The Volunteers
RCS would love to extend a big shout out to all the divine heroes who volunteered including Al Harris & Raquel Sanchez of Kiss the Monkeys, Tony Award-winning Broadway Actor and Dancer Ben Vereen, and all of the angels that rose up on the last Sunday of the month to assist those less fortunate than themselves at a time when community and togetherness matters the most.
It truly is amazing charitable work.
#divineproject #divinehomelessproject #bethechange
[outofthebox dir="/kiss the monkeys/a divine thanksgiving project/pics" account="dbid:AACQ26M0VBscplEc5CTM5DmOUlaa5y04fCk" mode="gallery" viewrole="administrator|author|contributor|editor|subscriber|guest" downloadrole="all" candownloadzip="1" showsharelink="1" deeplink="1" notification_skipemailcurrentuser="1" notificationdownload="1" ]